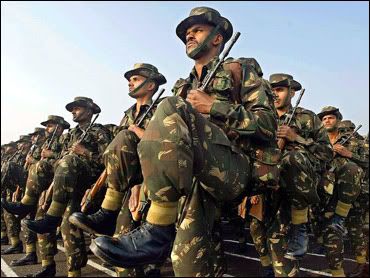 I don't have a huge fetish for military uniforms. Sure, I have stored my own uniforms, long retired since I left the Army in late 2002, with loving care. Sure, I'm quite proud of the Polish Army uniform a Polish NCO friend traded me in PLDC. And sure, my wife looks spiffy* in her Soviet paratrooper's dress jacket. But it's more our near-museum curator status than fetishism that drives us to collect such artifacts. We like to own interesting little pieces of history.
And it is thus, as a scholar of South Asian culture and religion, that I set out to find an Indian Army jacket a few years ago. I quickly discovered that it's not such an easily obtained item. Chalking up their scarcity to India's probably valid concerns over their uniforms falling into the hands of terrorists and insurgents, I was about to give up my search.
Then I stumbled across the website of
Trident Military
in Ambridge, Pennsylvania.
Not only do the folks at Trident carry a wide range of uniforms and other paraphernalia including current and historical uniforms but they also carry
Indian Army uniforms
! They even have the
field jacket
for which I had been searching! Ground score!
Does anyone else here care to share experiences buying international/vintage uniforms from Trident or any other sources?
*No, I'm not turned on by photos of women scantily clad in camouflage and bearing weapons. If you spent enough time in the field with raunchy-smelling female troops, as I did, you probably wouldn't either. But if you do like that kinda stuff,
here's some Indian Army eye candy for ya
.